Dancer training – Upper School

Become the best dancer you can be in the final years of training before joining a professional company.
During the three years of training at the Upper School, our 16 to 19-year-old students continue to work towards a career with the world's leading dance companies.
Classical ballet remains the foundation of the curriculum and the School's System of Training builds a strong technique that makes Royal Ballet School dancers sought after by company directors around the world.
Solos and repertoire introduce students to new and heritage works of the Royal companies. Knowledge of these ballets is essential, as students are frequently required to perform with The Royal Ballet and Birmingham Royal Ballet.
Classical
Pas de deux
Pointe work
Variations
Repertoire
Character
Contemporary
Improvisation and Choreography
Pilates
Upper body programme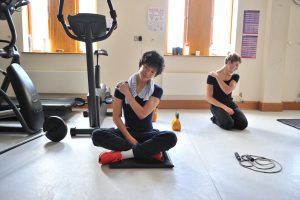 Character and contemporary continue to play an important part in the dance curriculum, as does pas de deux and pointe work for girls, although all become more physically demanding.
An intensive upper body programme is introduced for boys at the Upper School to enhance pas de deux training and pilates classes are added to the curriculum to strengthen core stability for all students.
Guest teachers
Guest teachers come to the Upper School from all over the world, introducing students to different dance styles and techniques. International choreographers coach students in new ballets and stage existing works which are often presented at the School's end of year performances at the Royal Opera House. These opportunities provide the young dancers with invaluable experience for their future careers.