Your first step on the path to a career as a classical ballet dancer.
Classical ballet is the principal dance discipline taught at the School. The School's own carefully constructed System of Training covering all aspects of training, from first entering the School in Year 7 to the final Upper School graduate year. It is the means by which students are prepared for a career with the world's top dance companies.
To complement the classical curriculum, White Lodge students learn Contemporary, Character and English folk dances. All of these form part of the basic dance curriculum essential to any vocational dance training.
Rhythm and co-ordination are fundamental to dancers. In Year 7, young students gain a thorough grounding in their basics through Dalcroze-based techniques which internalise rhythm and timing in a physical way.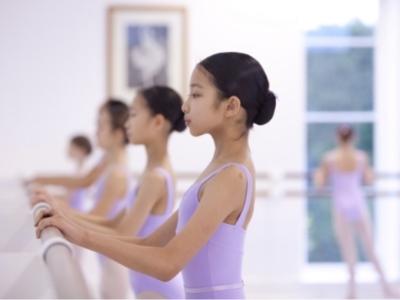 Classical
Pas de deux
Pointe work
Character
Contemporary
Gymnastics
Strength and Body Conditioning/Pilates
Folk dances
Choreographics
Pointe work for the girls is introduced gradually from Year 7 and evolves over the years as feet and ankles strengthen.
Body conditioning is taught to boys in Year 10 and 11 to increase strength in core stability, preparing the for the demands of pas de deux.
Pas de deux is introduced in Year 11 with supported adage. These classes are an early introduction to pas de deux, which allow young students to become familiar with the complexities of partnering.
Dance education
Full-time students of The Royal Ballet School receive a broad education, designed to give them experience of a wide range of roles within the dance sector. Students are taught choreography alongside their classical training and take part in The Creative Artist Programme, making them well-rounded artists ready to enter a competitive industry.
Guest teachers
The reputation of the School attracts internationally renowned teachers each year, who are regularly invited to instruct at the School.
This introduces students to a variety of teaching styles and techniques.